Schilderles in Amsterdam Centrum
OP MAANDAGMIDDAG EN AVONDCURSUSSEN
*NIEUW : FLEXKAART (scrol down)
*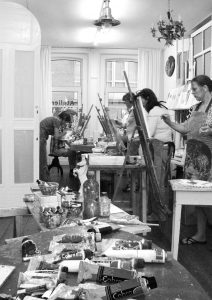 De lessen ook Juli 2019 continu!
De lessen worden doorlopend gegeven op maandag middag van 2 tot 5 uur. Opgeven altijd per blokje van 5 lessen. Bij genoeg aanmeldingen start ik in januari of februari weer met een avondcursus (van 5 lessen in totaal). De kosten bedragen € 100 per blokje=5 lessen, inclusief materialen (acrylverf en tekenmaterialen, klein papier) en exclusief schilderdoekjes, Cobra- of olieverf. Ik geef les in alle schilder- en tekentechnieken en richt me op een persoonlijke ontwikkeling van iedere deelnemer, tegenwoordig afgewisseld met opdrachten en thema lessen. Iedere les begint met een kleine intro-lezing over uitgekozen (schilder)kunstige onderwerpen bijvoorbeeld: techniek, materialen, kleur, kunstgeschiedenis, hedendaagse kunst, inspiratie, werkwijze etc…
3 keer per jaar is er een avondcursus van 5 avonden. Aanvang 19.30-22uur. Meer informatie hierover op aanvraag.
Proef les 10€
Contact en meer informatie, stuur me een e-mail.
*
We continue in juli 2019 with the lessons.
Every Monday 14 to 17 pm.
The lessons are given on Monday afternoon from 2:00 to 5:00 pm. Indicate per 5-lessons block. With enough applications, I start an evening course in January or February (from 5 lessons in total). The cost is € 100 per 5 lessons including materials (acrylic paint, drawing materials and small paper) and exclusive painting canvas, Cobra- and oilpaint. I teach in all painting and drawing techniques and focuses on personal development of each participant, nowadays interspersed with assignments and theme lessons. The lesson begins every time, with a small intro-lecture on all kinds of (painter) artistic subjects, for example: technique, materials, color, art history, contemporary art, inspiration, method, etc …
3 times a year there is an evening course of 5 nights. Beginning 19:30-22:oo.  More information on request.
Trial lesson 10 €
Contact and more information, sent me a e-mail.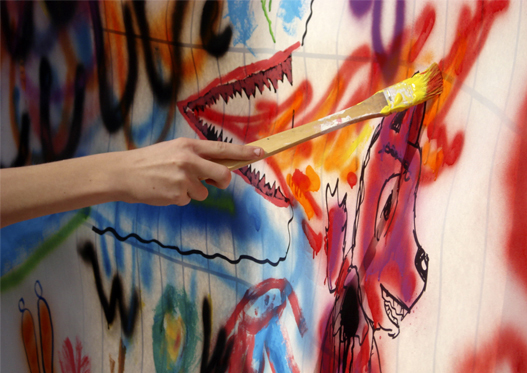 *
FLEXKAART:
– 4 schilderlessen voor 100 euro.
-1 jaar geldig vanaf datum aanschaf
– vóóraf betalen of bij aanvang 1e les
-je kunst komen waneer je zin hebt
– zoals gebruikelijk: inclusief koffie/thee, acryl-verf, krijt/potlood/inkt etc… klein papier, proef doekje (dus geen nieuw maar gebruikt wit doekje. Nieuw doekje altijd hier te koop voor gangbare prijs van 3 of 4 of 5euro of zelf mee te namen)
– inclusief intro lezing met lichtbeelden over techniek/materialen/(schilder)kunstgeschiedenis/hedendaagse kunst etc. en vraag gerust een gewenst onderwerp aan.
– voor de les begint, graag even aanmelden.
– de kaart geld voor alle doorlopende maandagmiddag lessen. zo nu en dan geef ik s'avonds blokjes (=5) model-schilder-lessen, hiervoor moet je je zo vroeg mogelijk van te voren opgeven want deze kan vol zitten.
Voor een ieder die graag vaak komt:
Het goedkopere systeem van 5 lessen voor 100 euro met 1 gratis afzegging, blijft dus ook bestaan maar dan committeer je je voor 5 x schildermiddag achter elkaar met achteraf betaling zoals nu gebruikelijk is.
Komt het meemaken, ik verheug me!
Proefles altijd mogelijk.
*
FLEX CARD:
– 4 painting lessons for 100 euros.
-1 year valid from date of purchase
– pay in advance or at the start of the first lesson
-you can come whenever you want
– as usual: including coffee / tea, acrylic paint, chalk / pencil / ink etc … small paper, proof cloth (so no new but used white cloth. New cloth always for sale here for the usual price of 3 or 4 or 5euro or to bring with you)
– including intro lecture with light images about technology / materials / (painting) art history / contemporary art etc. and feel free to request a desired subject.
– before class starts, please register.
– the card is valid for all ongoing Monday afternoon lessons. every now and then I give blocks (= 5) model painting lessons in the evening, for this you have to register as early as possible in advance because this can be full.
For everyone who likes to come often:
The cheaper system of 5 lessons for 100 euros with 1 free cancellation, therefore also continues to exist, but then you commit yourself for 5 x painting day in succession with postpay payment as is usual now.
Come and experience it, I am happy!
Trial lesson always available.
Jacomina