Schilderles in Amsterdam Centrum
IN JULI INLOOP-ATELIER IEDERE MAANDAG VAN 14 – 17UUR
*
!!! VANAF 6 JUNI OOK 5 WOENSDAG AVONDEN 19.30 – 22uur.   !!!                                                                                                                    speciaal programma, (meer info, stuur een mail).
Woensdag 13juni, Willemien met gitaar.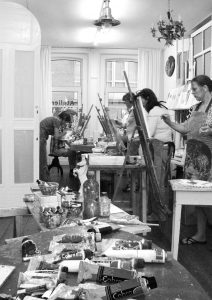 Opgeven per blokje van 5 lessen. De kosten bedragen € 100 per 5 lessen inclusief materialen (acrylverf en tekenmaterialen) en exclusief schilderdoekjes. De lessen worden gegeven op maandag middag van 2 tot 5 uur. Ik geef les in alle schilder- en tekentechnieken en richt me op een persoonlijke ontwikkeling van iedere deelnemer. De les begint met een kleine intro-lezing over allerlei (schilder)kunstige onderwerpen bijvoorbeeld: techniek, materialen, kleur, kunstgeschiedenis, inspiratie, werkwijze etc…
3 keer per jaar is er een avondcursus van 5 avonden. Aanvang 19.30-22uur. Meer informatie hierover op aanvraag.
Proef les 10€
Contact and more information, sent me a e-mail.
English:
Every Monday 14 to 17 pm.
Indicate per 5-lessons block. The cost is € 100 per 5 lessons including materials (acrylic paint and drawing materials) and exclusive painting canvas. The lessons are given on Monday afternoon from 2:00 to 5:00 pm. I teach in all painting and drawing techniques and focuses on personal development of each participant. The lesson begins every time, with a small intro-lecture on all kinds of (painter) artistic subjects, for example: technique, materials, color, art history, inspiration, method, etc …
3 times a year there is an evening course of 5 nights. Beginning 19:30-22:oo.  More information on request.
Trial lesson 10 €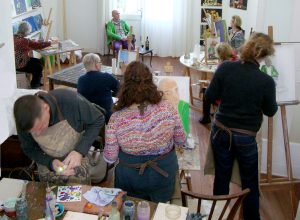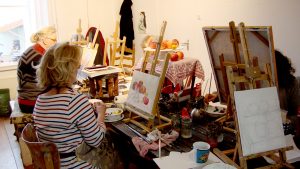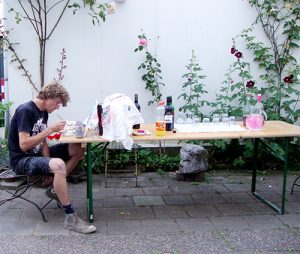 Contact and more information, sent me a e-mail.